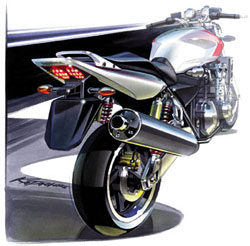 Honda currently produces a wide range of successful motorcycles geared toward virtually every taste and riding style. From hardcore sportbikes equally as comfortable on the racetrack as they are on the street to easy-riding cruisers directed toward a slower pace of riding enjoyment and adventure bikes raring to explore far-off lands, Honda's varied stable of motorcycles show a passion for all kinds of riding enjoyment unmatched by any other manufacturer.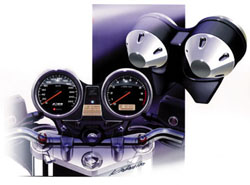 A decade ago, Honda released an unfaired, or 'Naked' sportbike called the CB1000, nicknamed the 'Big One,' which combined the stark beauty of machined metal with a satisfying rush of powerful, full-bodied performance. While not a major best-seller, the CB1000 proved to have a strong appeal for a wide cross-section of riders with no obsessions about having the 'biggest' or 'fastest,' but simply wanting a strong, reliable 'standard' that looks tough and delivers a mean punch, with a little extra in the way of quality of execution and attention to detail to set it apart from the rest.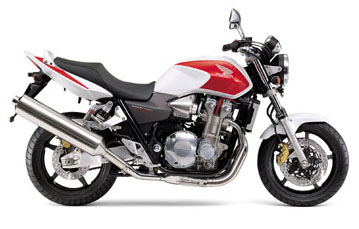 Over the years, the CB1000 also became a favourite base model for hot rod customising, with both looks and performance taken to some remarkable extremes in the pursuit of a more personal statement of performance. In recent years, a growing number of street riders have been rediscovering the joys of Naked sportbikes, which stay close to the basic fundamentals of motorcycling's appeal: exciting performance with little in the way of added 'accoutrements' to distract from the pure enjoyment of riding face into the wind.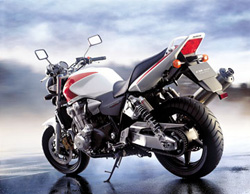 This trend has been reflected in recent new bike sales, as the market segment represented by Naked machines has grown at a significantly faster rate than any other, especially in the higher displacements. Honda has recently enjoyed several big hits in this segment, led by its two bestselling mid-displacement Hornets. Up in the large-displacement segment of the market, the Hornet 900 and 1100cc X-Eleven has gathered a discerning and dedicated niche of aficionados who appreciate their levels of performance and unique styling, although their appeal has not been quite so widespread.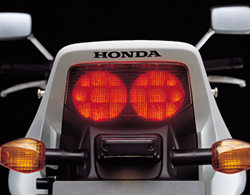 Returning to the drawing board, Honda's 'Naked bike' development team drew up a list of the factors that most appeal to them personally as riders and lovers of the motorcycle riding experience. Primary among these points of appeal was the 'Fun Factor' that encompasses the exhilaration of high performance, an acute responsiveness that makes the machine feel like a personal extension of the rider's will, and all the sensations of a big engine's sound and vibration that cause a rider to feel really alive when on the move. All difficult to quantify factors that an experienced rider instantly knows but can't quite put into words, never mind tally up on a performance chart. Therefore, expressing this deeply felt riding experience in a new, large-displacement motorcycle proved to be a challenge that required much concentrated thought and testing of every part to get just right.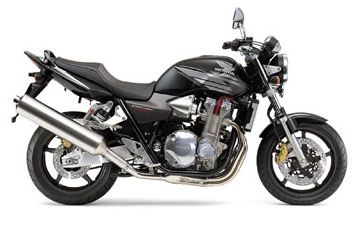 The final result of these efforts come together in the new CB1300, a big, brute of a 'naked' standard with a heart-stopping blast of performance that really puts the fun into the 'out-in the open' Naked bike riding experience.
Specifications
Engine

Type Liquid-cooled 4-stroke 16-valve DOHC inline-4
Displacement 1,284cm3
Bore x Stroke 78 x 67.2mm
Compression Ratio 9.6 : 1
Max. Power Output 85kW/7,500min-1 (95/1/EC)
F-type 78kW/7,500min-1 (95/1/EC)
Max. Torque 117Nm/6,000min-1 (95/1/EC)
F-type 115Nm/6,000min-1 (95/1/EC)
Idling Speed 1,000min-1
Oil Capacity 4.6 litres
Fuel System

Carburation PGM-FI electronic fuel injection
Throttle Bore 36mm
Aircleaner Dry, cartridge-type paper filter
Fuel Tank Capacity 21 litres (including 4-litre warning light reserve)
Electrical System

Ignition System Computer-controlled digital transistorised
with electronic advance
Ignition Timing 5° BTDC (idle) ~ 31° BTDC (7,500min-1)
Sparkplug Type CR8EHVX-9 (NGK)
Starter Electric
Battery Capacity 12V/14AH
ACG Output 420W/5,000min-1
Headlight 12V 55W x 1 (low) / 60W x 1 (high)
Drivetrain

Clutch Wet, multiplate with coil springs
Clutch Operation Hydraulic
Transmission Type 5-speed
Primary Reduction 1.652 (88/56)
Gear Ratios:
1. 3.083 (37/12)
2. 2.062 (33/16)
3. 1.545 (34/22)
4. 1.272 (28/22)
5. 1.130 (26/23)
Final Reduction 2.277 (41/18)
Final Drive #530 114-link sintered link chain
Frame

Type Double-cradle; steel tube; dual backbone
Chassis

Dimensions (LxWxH) 2,220 x 790 x 1,120mm
Wheelbase 1,515mm
Caster Angle 27° 00′
Trail 99mm
Turning Radius 2.7m
Seat Height 790mm
Ground Clearance 135mm
Dry Weight 224kg
Kerb Weight 252kg (F: 124kg; R: 128kg)
Maximum Carrying Capacity 188kg
Loaded Weight 445kg (F: 170kg; R: 275kg)
Suspension

Type Front 43mm cartridge-type telescopic fork, 120mm
axle travel
Rear Dual conventional dampers with 5-step adjustable
spring preload, 116mm axle travel
Wheels

Rear 17M/C x MT5.50
Tyre Size Front 120/70 ZR17M/C (58W)
Rear 180/55 ZR17M/C (73W)
Tyre Pressure Front 250kPa, Rear 290kPa
Brakes

Type Front 310 x 4.5mm dual disc with 4-piston callipers
and sintered metal pads
Rear 256 x 6mm single-piston calliper disc with sintered
metal pads